OPEN HOUSE SCHOOL OF DESIGN AND CREATIVE ARTS
Apprenticeship (Job Training)
PT Panen Lestari Internusa (PLI), is looking for apprentices to meet the needs of human resources. The position required is a Graphic Designer, with the following qualifications:
1. Students majoring in Visual Communication Design
2. Able to use Adobe software and other graphic design software
3. Having the will to learn
4. Creative
For information, PT. Harvest Lestari Internusa (PLI) is engaged in retail (Dept. Store, Supermarket, and F&B) which has been established since March 1, 1990, and currently has outlets in various cities in Indonesia. More complete information about our company can be seen at www.sogo.co.id.
For further information regarding this request for cooperation, please contact PT PLI Recruitment Department, telephone: (021) 27889155/75 Ext. 1603/1599/1598 or e-mail: recruitment@pli-indonesia.co.id.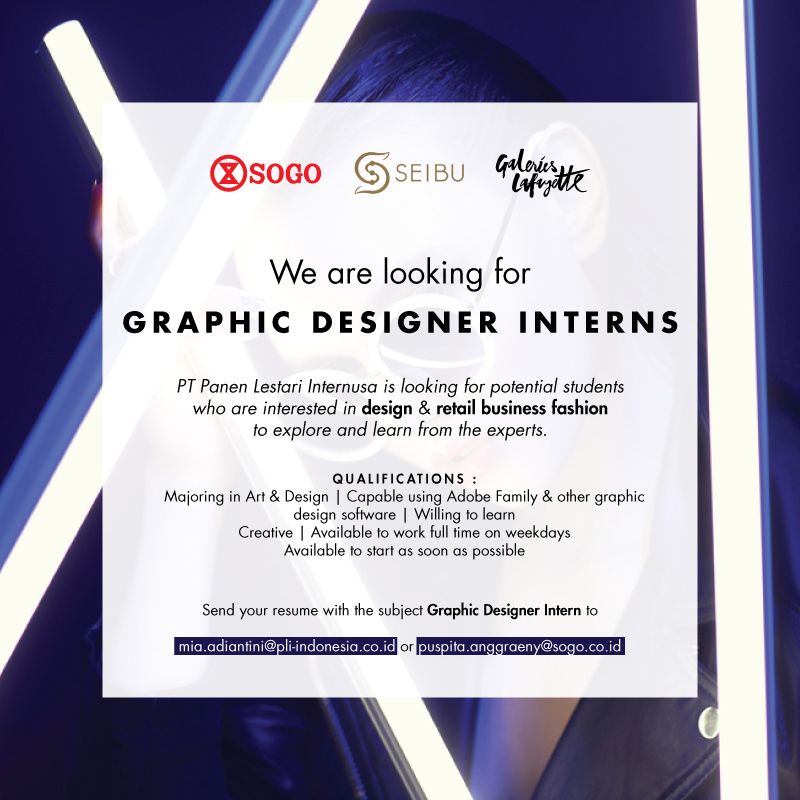 Instagram Academy Goes to Campus
Instagram hooks the startup company aka creative community startup Kreavi to hold a digital training program for a thousand young entrepreneurs in Indonesia. This pilot project program will be held in three cities, namely in Jakarta, Bandung and Yogyakarta. The participants will be curated to become ten people to join the incubation program with Kreavi.
This is a new program and Indonesia is the first country to implement it. This program is aimed at young entrepreneurs who are under 35 years of age and have run their business for at least one year. In addition, the costs are also free for young entrepreneurs whose business is engaged in one of the categories of the 16 sub-sectors of Bekraf's creative industries, such as culinary, fashion, fine arts, and interior design.
During the event, participants will gain knowledge of business knowledge based on the Instagram Academy curriculum. The things that will be learned are how to understand business features on Instagram, create interesting content to market products, and the right promotional strategies.
10 best graduates of the Instagram Academy will be chosen by Kreavi to take part in the incubation program in September 2019. After the incubation program, Kreavi will again determine the five best businesses that will later attend local exhibitions.